Welcome to the 2017 campaign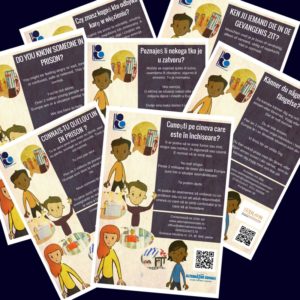 COPE's multilingual awareness-raising posters for schools
Throughout the month of June, COPE runs an annual pan-European campaign entitled "Not my crime, still my sentence". The objectives of the campaign include:
• Awareness-raising about the rights and needs of children affected by the imprisonment of a parent
• Effecting policy change for these children on the local, national and European levels
The campaign started in 2010, without a budget, and now takes place every year carried by COPE's members across Europe and as far away as the US, Brazil and New Zealand.
Each year, the campaign targets key policymakers as well as the media and general public using online tools, videos, artwork, emails and social media.
This year, the campaign has two focuses: one, to improve the prison visits experience for children visiting their imprisoned parent; the other, to reach out to those children not yet receiving support from COPE members and perhaps not yet in contact with their imprisoned parent.
For Focus 1, the campaign will seek to support children visiting a parent in prison, by collecting positive solutions for improving the prison visits environment. Targeting prison governors, prison staff and regional or national prison services, campaign focus II uses positive, reinforcing language to appeal to and encourage key stakeholders to improve prison visits for children. Careful, measured child participation is key to this campaign focus, with members consulting the children they work with to devise strategies for improving visits.
Campaign Focus II: Supporting "out of reach" children of prisoners in the community
The second focus targets children who do not visit their imprisoned parent and who are not in contact with COPE's members for support. COPE and its members are exploring new avenues, to find children in their communities, with a particular focus on schools. We encourage members to carry out awareness-raising in their local schools using eye-catching visuals, and advocacy with regional or national Education authorities using model letters to be translated and disseminated.
Are you part of a public institution, school, prison national human rights institution or law enforcement agency? Get in touch to find out how you can support the 2017 "Not my crime, still my sentence" campaign.
Ce poste est aussi disponible en: Français